Welcome, fellow lover of Wavee Hard Seltzer!

Thank you so much for choosing to support local; by picking up Wavee you've made our day. We love knowing that someone's currently sipping on their seltzer - sprawled across a sandy beach towel, huddled around a campfire or BBQ, perhaps perched at a fancy hotel bar - and have decided to suss out what we're all about.
About The Seltzer
We believe in not sacrificing life's celebrations, or your commitment to a healthy lifestyle. We believe in making it easier to achieve balance, moderation, harmony; 
we believe in guilt-free good times, where today and tomorrow matter equally.
Just as delightful served over ice in a chilled glass, as it is straight from the can, you can indulge in these not-so-guilty pleasures, knowing you won't regret it tomorrow
Nutritional Information
We're also committed to being straight with you. Our seltzers are rigorously tested with NMI in Melbourne, to ensure we can confidently report exactly what's in our beverages. Honesty and transparency are central to maintaining strong, trustworthy relationships within our Wavee community; so whatever your question, we'll make sure you're informed.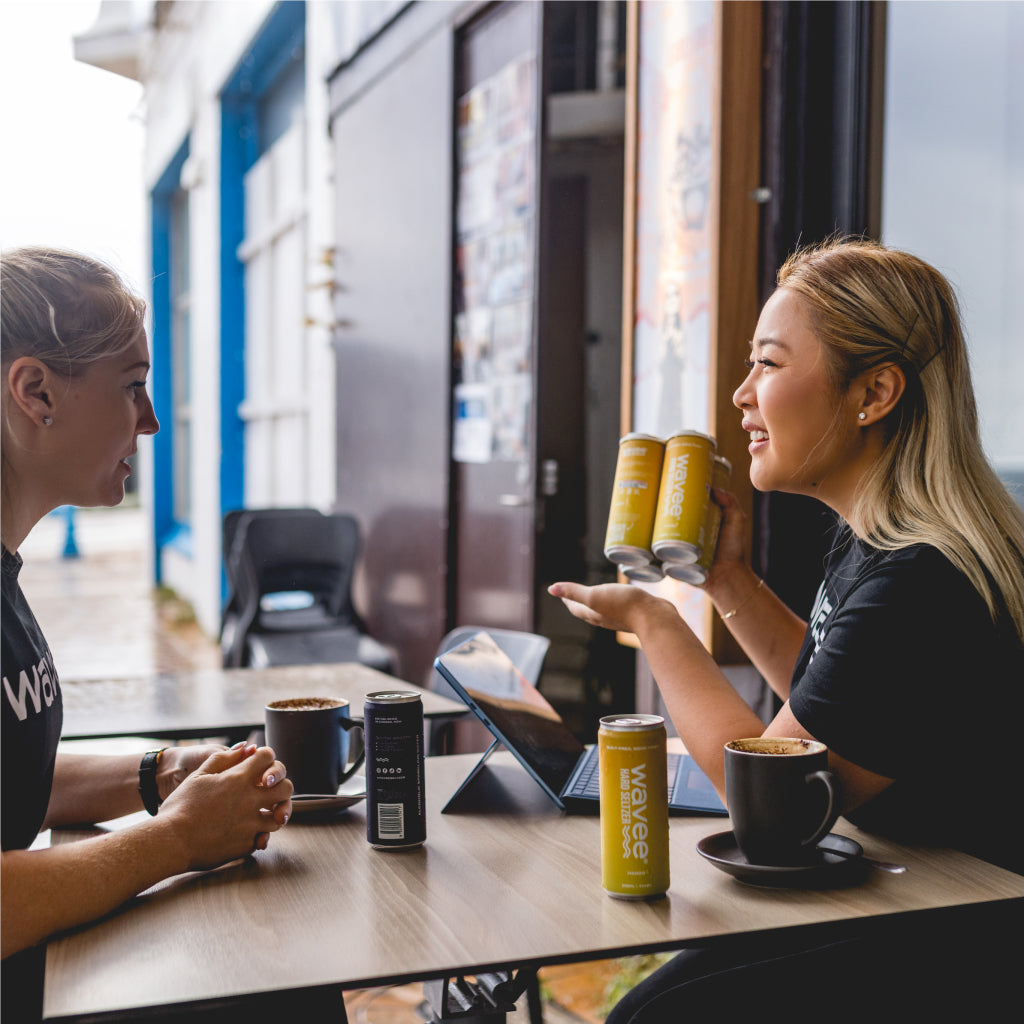 About Us
We've loved Wavee since the first sip. Like most Aussies, I enjoy a drink when I'm out with friends - but I was on the hunt for an alternative to the usual wine/beer/spirit that didn't make me feel heavy or bloated. After some curiosity in the 'Hard Seltzers' section of our local Coogee Bay Cellars, I grabbed a bunch of different brands and did a blind-tasting at home. Wavee came out as the favourite seltzer by far, and became my drink of choice for every occasion. We got to know the owners of Wavee after they delivered our order to our home, and in some serendipitous way, an opportunity came up to buy my favourite seltzer on a whole different level…we just knew it was right. 
Wavee Seltzer is now established in Coogee…in fact, we just launched Wavee Hard Seltzers on tap at The Ternary Bar at Novotel Sydney Darling Harbour Sydney! It's been incredible to collaborate with like-minded people, who love Wavee just as much as I do. 
We know Aussies love supporting local, and we truly believe it has all the makings to become the nationally preferred seltzer of choice. Easy drinking, natural flavours, low sugar and calories…relaxed, unassuming, but classy. Just like Coogee!